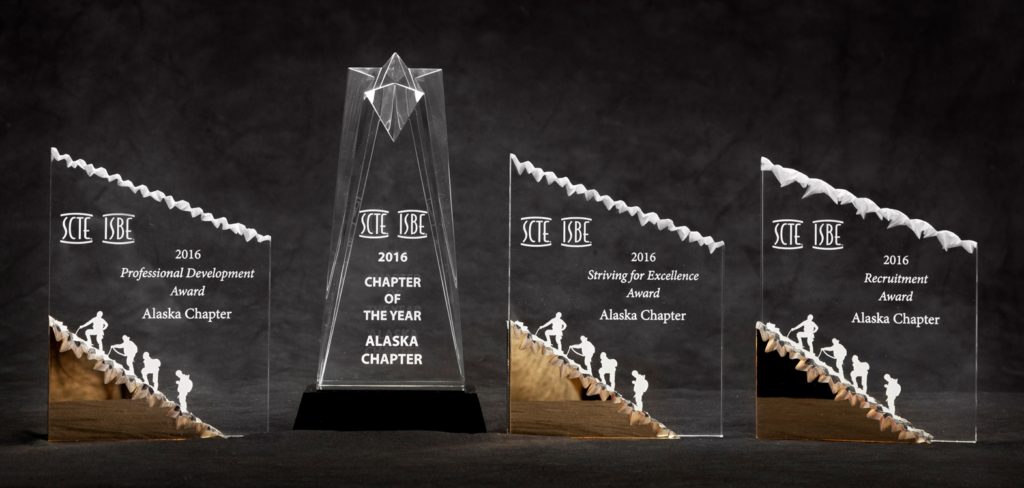 ALASKA CHAPTER EARNS FOURTH STRAIGHT SCTE•ISBE TOP CHAPTER TITLE
4/06/2017 10:00 AM
APRIL 6, 2017 (Denver, CO)—For the fourth consecutive time, the Alaska Chapter holds the prestigious honor of SCTE•ISBE Chapter of the Year, the Society of Cable Telecommunications Engineers (SCTE), along with its global arm, the International Society of Broadband Experts™ (ISBE), announced last evening, in Denver.
The Alaska Chapter earned the distinction of chapter of the year for its exemplary performance in serving local cable telecommunications technical professionals and advancing the Society's mission throughout 2016. The chapter juggernaut is based in Anchorage, which is Alaska's most populous city. Carey Schreiber, transport engineer with GCI Communications, served as chapter president in 2016 and is now the chapter's chair. This is the fifth time since the award's inception that the Alaska Chapter has captured top honors.
The Society honored its finest chapters based on 2016 performance during the 16th Annual SCTE•ISBE Chapter Awards Dinner last evening in Denver as part of SCTE•ISBE Chapter Leadership Conference (CLC) 2017. CommScope, a Society Corporate Alliance Partner, sponsored the awards dinner.
Chapters provide local networking, professional development, and SCTE•ISBE certification opportunities to current and prospective Society members in more than 70 locations around the world—all toward building technical workforce competence.
SCTE•ISBE also presented awards for second- through eighth-place chapter of the year. Those honorees are Golden Gate (Calif.) (second), Razorback (Ark.) (third), Piedmont (N.C.) (fourth), Crystal Coast (N.C.) (fifth), Sierra (Calif.) (sixth), Lake Michigan (Mich.) (seventh), and Mount Rainier (Wash.) (eighth). The Most Improved Chapter of the Year honoree is Lake Michigan.
The chapter awards also include the Compliance, Recruitment, Striving for Excellence, and Professional Development awards; a most improved chapter in each of these categories is also recognized. The honorees are:
Compliance Award: Golden Gate; most improved: Glacier-Teton (Mont.)
Recruitment Award: Alaska; most improved: Sooner State (Okla.)
Striving for Excellence: Alaska; most improved: Chattahoochee (Ga.)
Professional Development: Alaska; most improved: Lake Michigan
At CLC 2017, which began yesterday and concludes today, attendees are sharing best practices, exchanging ideas, and celebrating successes through a series of seminars, panel presentations, and networking sessions. The other sponsors of CLC 2017 are Amphenol Broadband Solutions and SCTE•ISBE Corporate Alliance Partners Corning, Technetix, and VeEX. This year's theme is "Achieving Peak Performance."
The chapter awards are earned based on an objective points system. The SCTE•ISBE Chapter Member of the Year Award, which involves a traditional nominations process, will be announced soon.
Details about the Society's chapters, including where they are located and who oversees them, are available at www.scte.org/chapters. Details about the awards can be found there as well. Information about CLC 2017 is available by clicking the Events tab at www.scte.org.